Honda CB300F was earlier offered with a discount of ₹50,000 nationwide. This was supposed to end in 2022 but as of now, this discount is still on offer. This is quite unprecedented; a new Honda product does not get such a big discount within a few months of its launch. This does not, however, come as a surprise, because the launch price of ₹2.26 lakh to ₹2.29 lakh seemed a bit much for what this bike had to offer. While it is a 300, its specifications are akin to the simpler 250s on sale today. Now, at ₹1.79 lakh, can the CB300F make a genuine case for itself?
As with most sporty naked bikes today, the Honda CB300F has a front-heavy look, with angular tank extensions, although it does not have a steeply raked rear end, which should bode well for carrying a pillion. Our test was on this handsome, deep blue colour and the flakes visible in the paint are a neat touch. The richly painted, 14.1-litre tank and the tactile switchgear reinforce its premium positioning. While quality levels are respectable nearly all over, the mirrors and non-adjustable levers are lifted straight off Honda commuter bikes (like the Unicorn and Shine) and stick out like a sore thumb on this otherwise well-finished product.
The CB300F is the only bike in the class to feature a traction control system, while it is not necessary, it is a nice safety feature to have in low-grip situations. The negative LCD is not the largest unit around but packs in a fair bit of information and is legible no matter the time of day. A handy USB Type-C charger is placed close to the handlebar and there is also Bluetooth connectivity on offer, although it only works if you have a communication device on your helmet. The LED headlight provides decent illumination, both at high and low beams, but is not anything to write home about. The tail-lamp is ordinary-looking. Though there is no denying it is a handsome, well-built machine, it resembles the smaller Hornet 2.0. a bit too much for its own good.
Riding the CB300F around in the city is a peaceful affair, thanks to its amenable 789mm seat height, but mostly down to its light and nimble-feeling nature with its 153kg kerb weight. Pair these figures with the feather-light clutch and a superb turning radius and you get one of the most city-friendly 250-300cc bikes available today. The cherry on the top is the natural-feeling rider triangle, with a slight forward reach to the bars and mildly rear-set footpegs, making long hours in the comfortable saddle a breeze. Honda sets the rear shock preload at the softest setting, which tends to send a jolt up your back over large bumps. Raising the preload will help, but the overall nature of this suspension is competent — neither sporty nor supremely comfortable.
While rivals like the Dominar 250 sport more modern componentry, with liquid-cooling and a DOHC construction, the CB300F features a rather old-school air-and-oil-cooling and a SOHC construction. The result is a modest set of peak output figures of 24.1hp and 26.5Nm, making it less powerful than the likes of the Pulsar 250 and Gixxer 250, but with a stronger torque output. Honda has prioritised mid-range power over all-out performance with this motor. Despite the modest output figures, performance is not anything to scoff at, with the CB300F posting a 0-100kph time of 7.94sec (quicker than both, the Gixxer 250 and the FZS 25), and, in our time with it, we managed a speedo-indicated top speed of 138kph. For a 300cc motorcycle, the CB300F returned a respectable 35.3kpl (overall).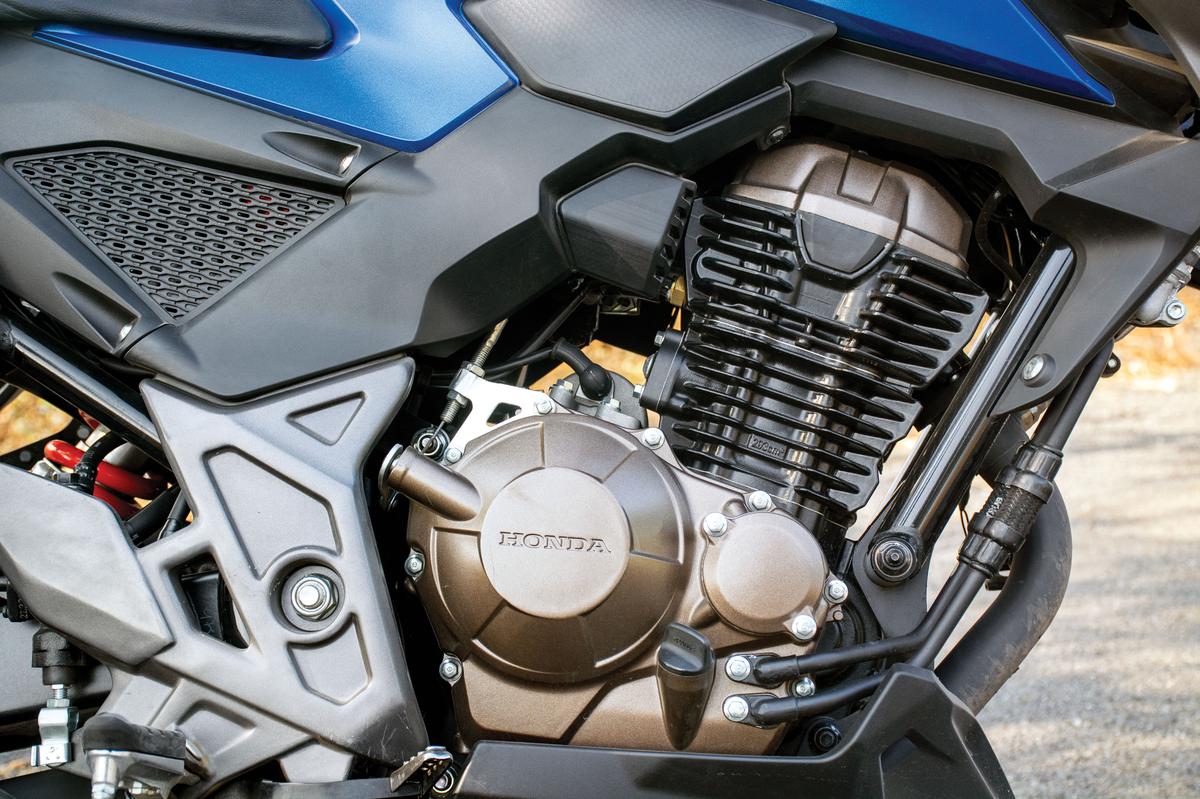 Once you hit 6,000rpm, the engine, surprisingly, produces more buzz and vibration than its 250cc rivals from the likes of Yamaha, Suzuki and Bajaj. The engine's sweet spot is around 85/90kph in top gear. However, even a small increase in speed from here on results in a disproportionately large increase in vibrations around the seat and the handlebar, but not the rubber-mounted footpegs.
The 6-speed gearbox is precise, with a light clutch feel that makes riding in the city a breeze. The MRF REVZ tyres perform adequately and are a good match for this bike's capabilities. Braking performance (provided at both ends by Nissin) is a love/hate affair, with the front brake lacking feel but the reassuringly strong rear brake does, partly, make up for it. Dual-channel ABS is standard and is not switchable.
The CB300F is a quick, well-built, feature-packed offering from Honda which is also priced competitively. There is not any standout feature on the CB300F, but it comes together as a stylish, lightweight and do-it-all motorcycle that is more than the sum of its parts. Add to that the fact that Honda spares and service are famously light on the wallet and the little CB makes a compelling case for itself.
As a city-oriented motorcycle, the Honda CB300F does many things right, but lacks refinement unlike its rival — Bajaj. Nevertheless, for those who value the Honda badge and do not have an interest in long-distance travel, the CB300F makes for a good motorcycle, but only at a discounted price, as it simply cannot justify its original price tag.